Welcome to the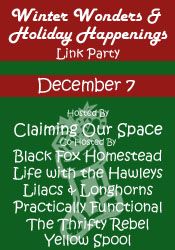 Winter Wonders and Holiday Happenin

gs

Link Party!
December is here and that means
Hanukkah,
Christmas and Kwanzaa are right around the corner so it is the perfect time to share all your delicious holiday dishes and decor, along with your favorite Winter treats and projects.
Help get us inspired!
Claiming Our Space has joined up with
Black Fox Homestead
,
Life with the Hawleys
,
Lilacs and Longhorns
,
Practically Functional
,
The Thrifty Rebel
and
Yellow Spool
. Each of us will have our own project or recipe to share so make sure to stop by to check out what we have each created as well as to link up your own winter or holiday inspired posts.
---
My project is a canning lid snowman. I call him Liddy the Snowman.
I started canning last year, jams, applesauce and tomato sauce, and so have been gathering the canning lids since it seemed a shame to throw them out. Yikes, that was just a little bit Horder-y wasn't it. Well, in any case, I have a good number of the lids saved up.
I have reused some to seal up some chalk paint jars but thought that they would work great for creating a snowman. Thankfully, it turned out pretty cute!
This is an easy project. Once you get the lids painted, it takes only about 15 minutes to whip up your own Liddy the Snowman.

Materials Needed
1. three canning lids
2. glossy white spray paint
3. ribbon or heavy twine
4. black marker - I used a Sharpie
5. orange marker - I used a Sharpie
6. red felt
7. white felt
8. cotton ball or sherpa type fabric
9. hot glue gun
Directions
1. Wash and dry three canning lids
2. Using a flat head screwdriver, dig out and remove the reddish stuff that seals the jar. If this step is skipped, the paint on it will never dry. I didnt' do this on my first go and over a week later, it still comes off on my fingers.
3. Paint lids, both sides, a glossy white. Let dry. It may take 3 light coats to cover completely.
4. Cut one piece of ribbon about 5" in length and cut another piece 8" in length.
5. Cut a quarter circle with a 4" radius.
6. Cut a piece of white felt 1/4" wide x 3 1/2".
7. Glue the red felt to a lid, with the "nice side" to the front, wrapping it around the back, to make a hat.
8. Glue the white felt to the bottom of the hat, covering the edge so the red doesn't show.
9. Glue fluffed cotton ball or a small piece of sherpa fabric to the point of the hat.
10. Using the black marker, make three dots on one of the lids then draw the eyes and mouth on the lid with the hat.
11. Using the orange marker draw the carrot for the nose.
12. Lay your lids, nice side down, spacing them out how you would like.
13. Glue the 5" ribbon to the back of the tree lids so they are now all connected.
14. Use the 8" ribbon to make a loop to hang your snowman, glue it to the back of the hat.
15. Hang your snowman.
I made a hanger using a piece of 3/4" x 3/4" scrap wood, 1" x 4" scrap and a cup hook. I sprayed it all green so it would fade into the background. You can use whatever you have hanging around your scrap pile to make a hanger if you want.
I would love to see you version of Liddy the Snowman, so if you make one, let me know so I can check it out.


---
Now that you have seen my project, it is time for you to share your projects, crafts, recipes, whatever you have come up with that is Winter or Holiday related via the linky tool below.
The party will be up until Thursday, December 20 and then on Friday, December 21, each host will pick their favorite two link ups. So mark your calendar to check back to see if you were feature.
Just a few guidelines
1. If you aren't already a follower, we would love it if you would add each of the hosts.


2. Link ups should be Winter or Holiday related. (No shops or other link parties please)


3. Try to visit some of the other link ups and leave a comment. Everyone loves visitors!


4. You don't need to link back but we would appreciate it if you would display the button on your blog or in your post tolet your own readers know about the party.