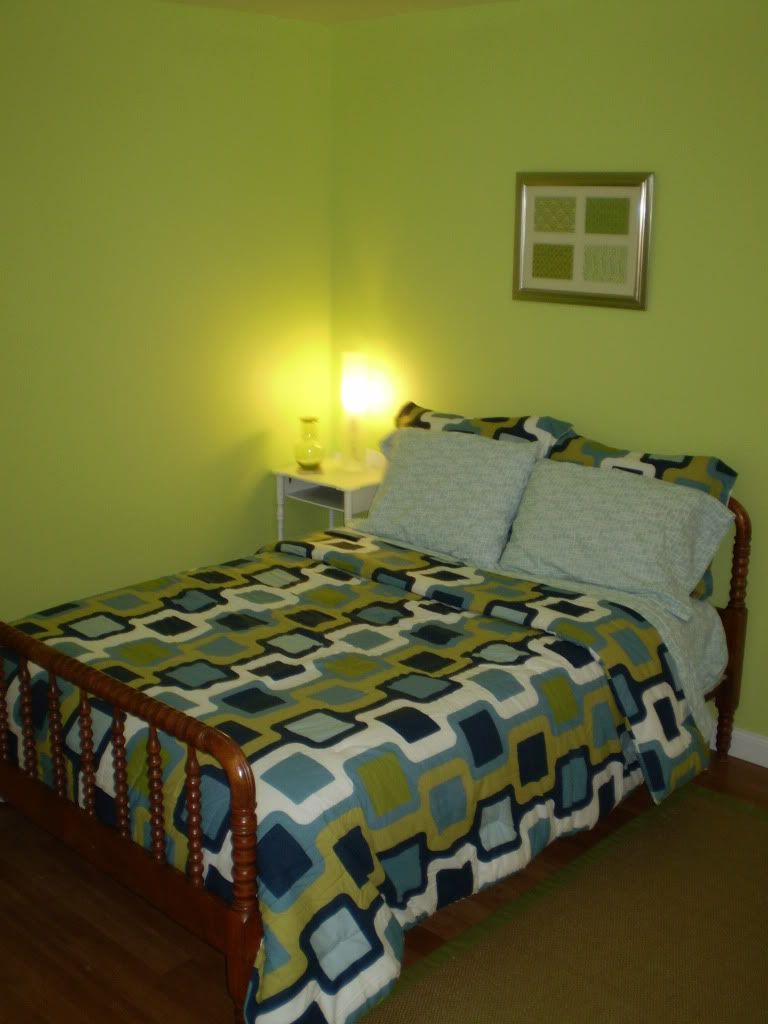 The first room that we have completed is our center bedroom. We call it that because it is located between the bedroom in the front of the house and our master bedroom in the rear of the house. This is my stepdaughter's room when she is with us and a guest room when she is not here.
The previous owners used this room as a study/office with desks for their two girls and themselves. With all the desks, bookcases, drapes over both the windows and closet doors and a single window with a northen exposure, it was quite dark and a little drab. Here is a peek at what we started with.
We decided to brighten it up with a bright leaf green and white trim. The result, a bright and cheery bedroom.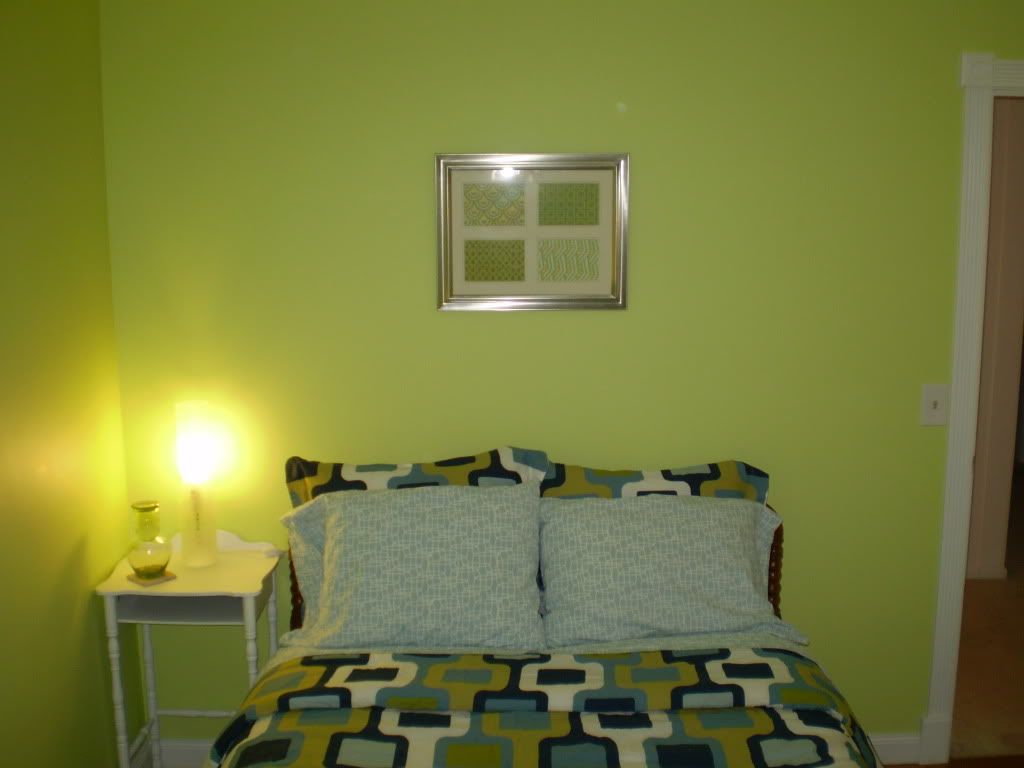 The only thing that didn't change in look was the floor. Thankfully, the previous owners had installed beautiful engineered bamboo flooring. However, that meant we needed to do everything else. We painted the walls and doors (both the closets and door to the room), replaced the baseboards and the trim for the doors and closets. I can also say that there was only one smashed finger (mine) when I was installing the baseboard trim.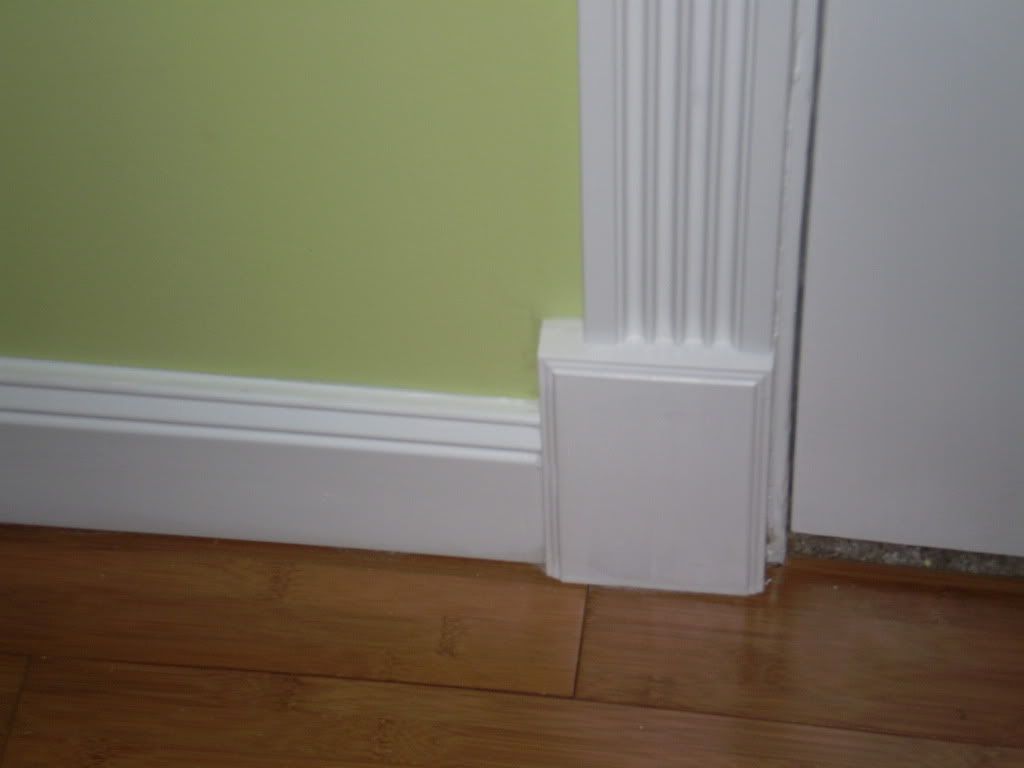 New baseboards and door trim base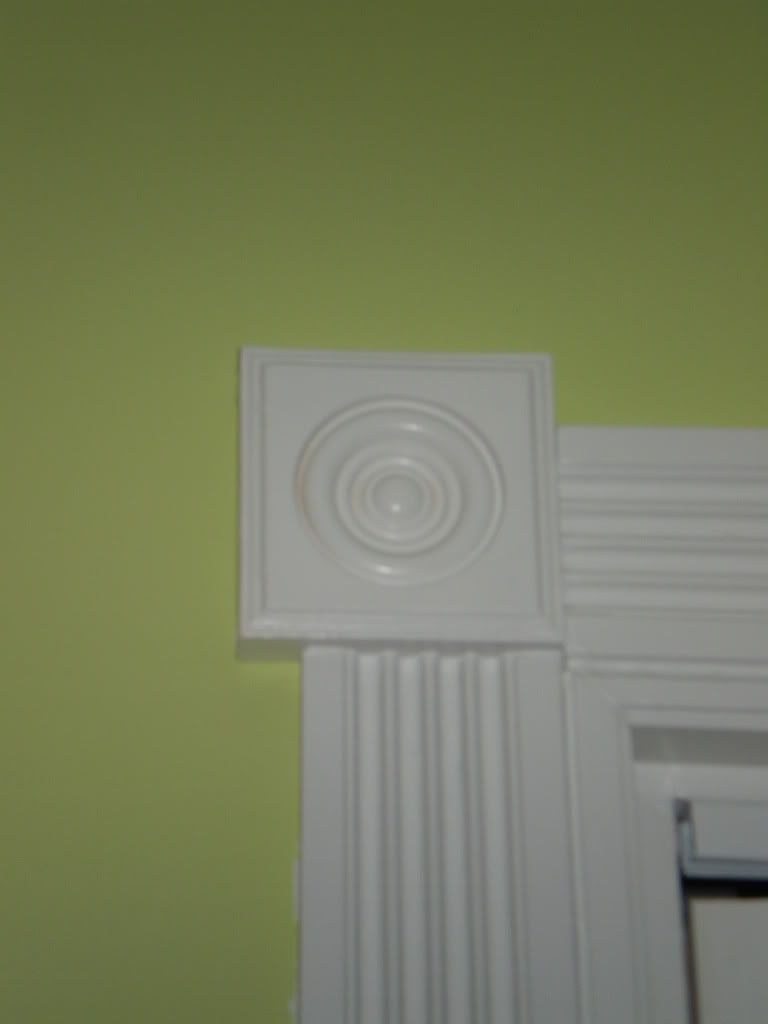 New trim and door topper
Additionally, we changed the location of the curtain rod closer to the ceiling to give a feeling of height to the room.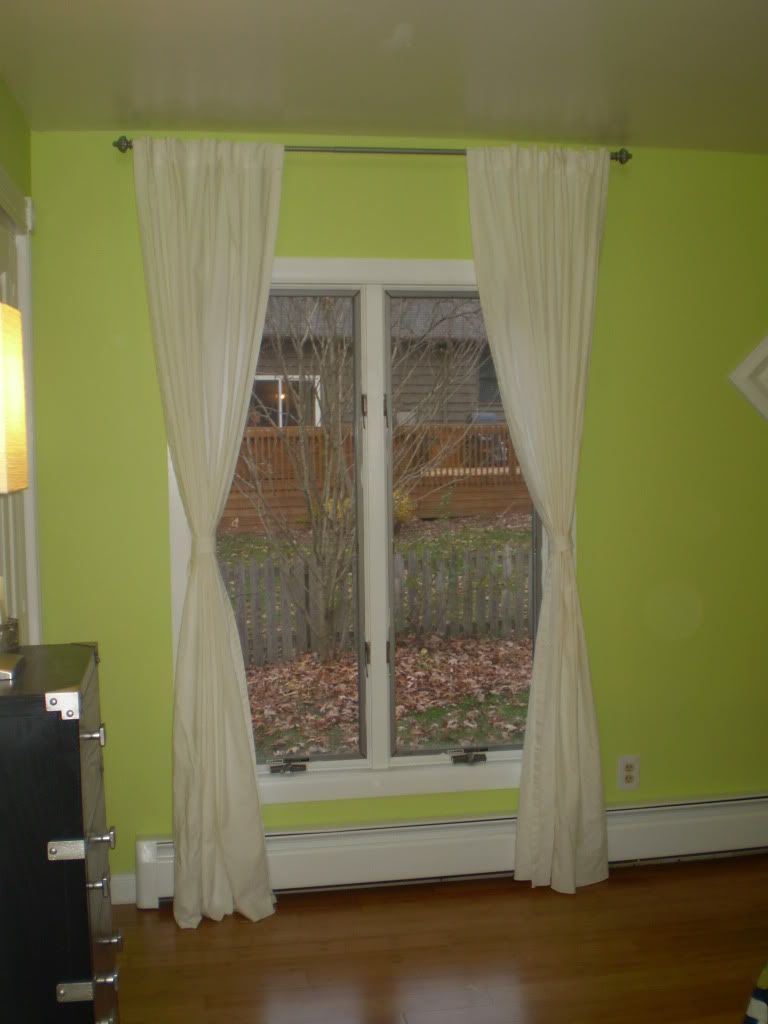 I found the bed and nightstand on Craigslist for $50 and $15 respectively.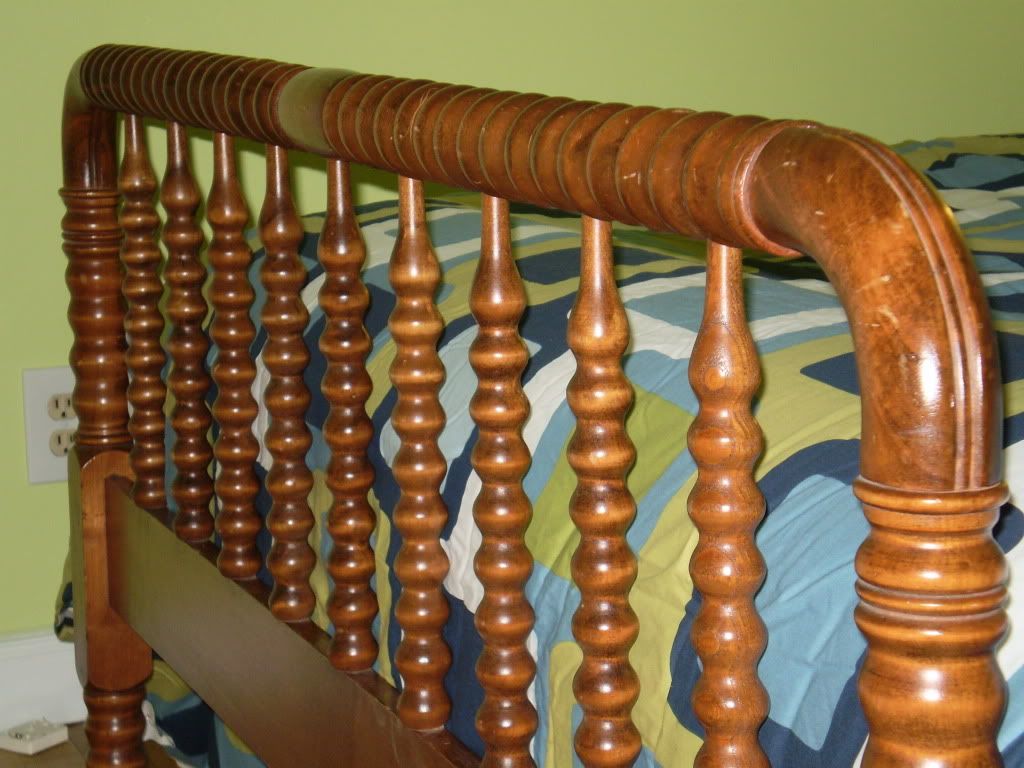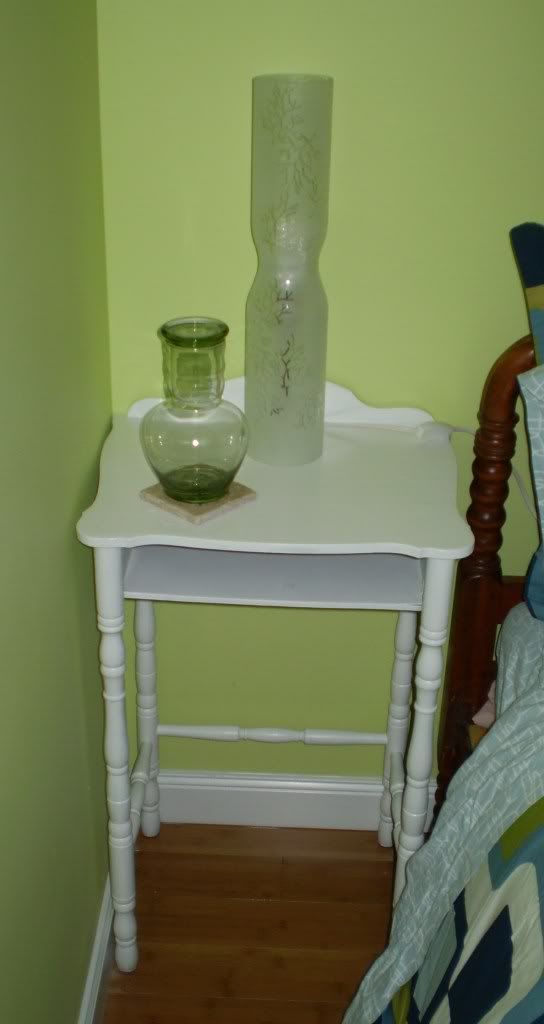 I already had the dresser from our previous home in Illinois.
Hang a free ceiling tile sample on the wall for some visual interest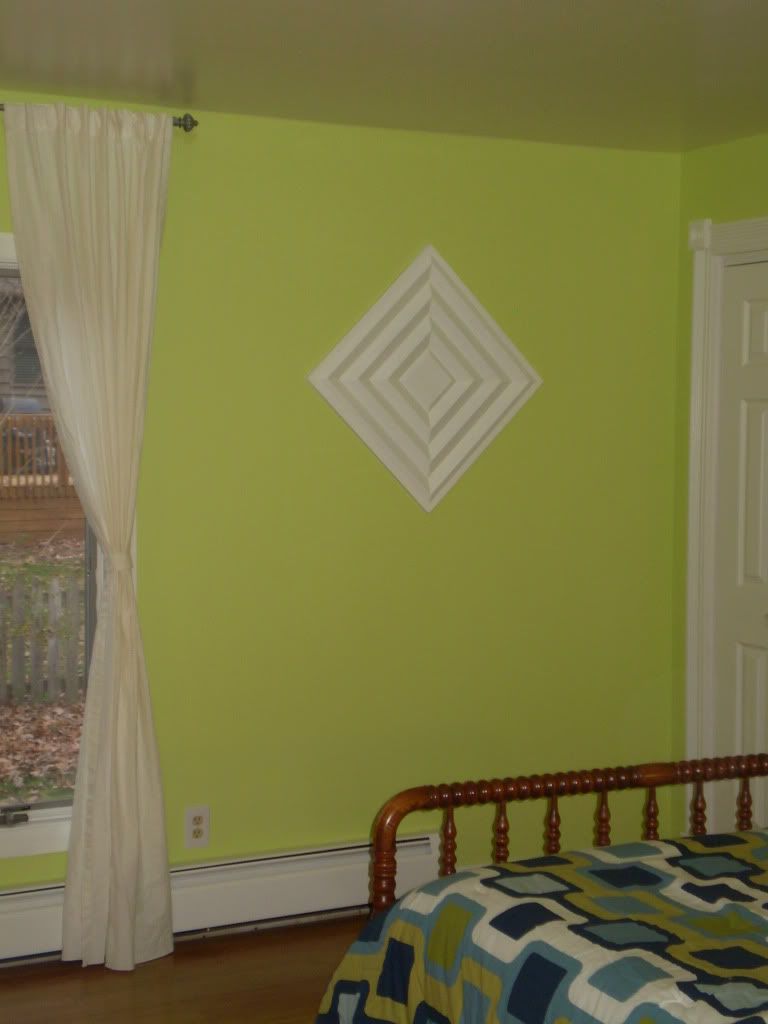 and add some free artwork made with scrapbook paper and a frame given to us as a wedding present to go over the bed and we are all set.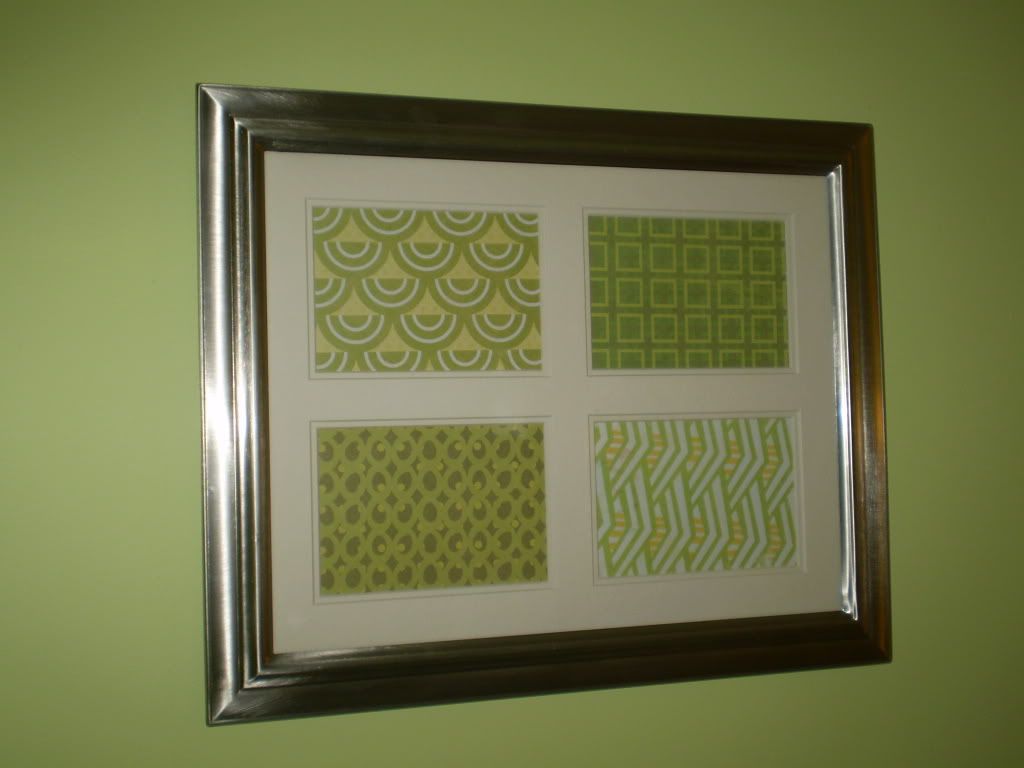 There are a few finishing touches left however. We plan to install a ceiling fan at some point, new windows are will be installed in about four to six weeks, at that time the window trim will be replaced to match the door trim, we need more artwork in the for the one wall and we want to get another nightstand.
Even without those last details, the room is a pleasant place to rest one's head. Especially with a bottle and glass for water along with some toiletries in case something got left behind.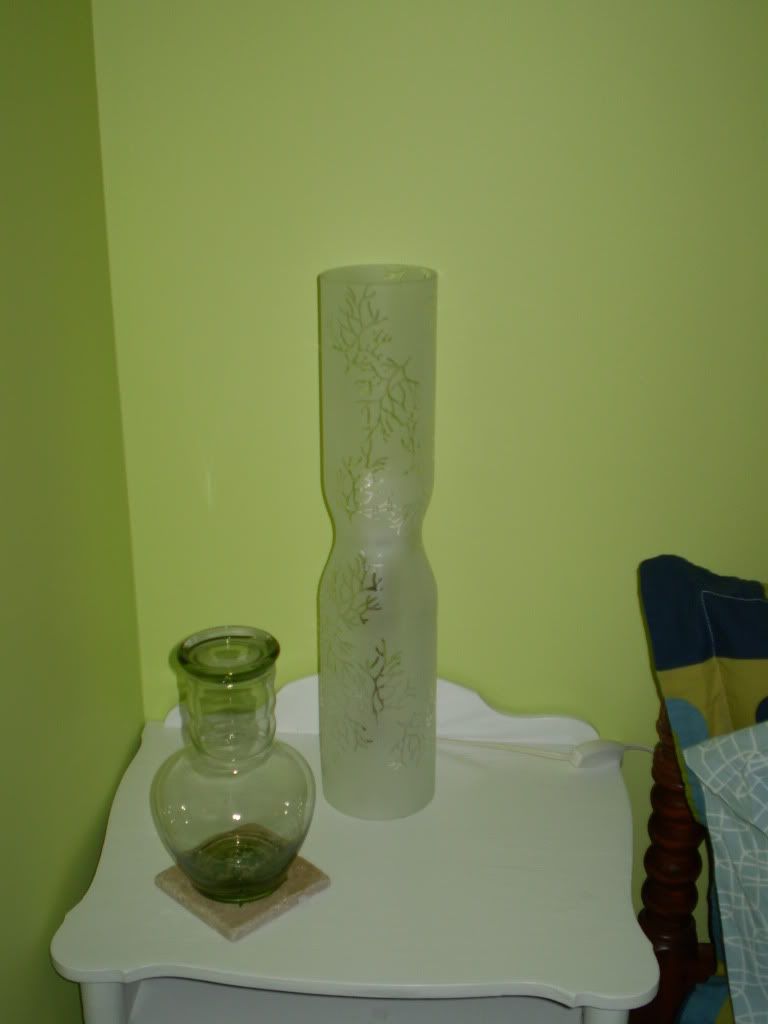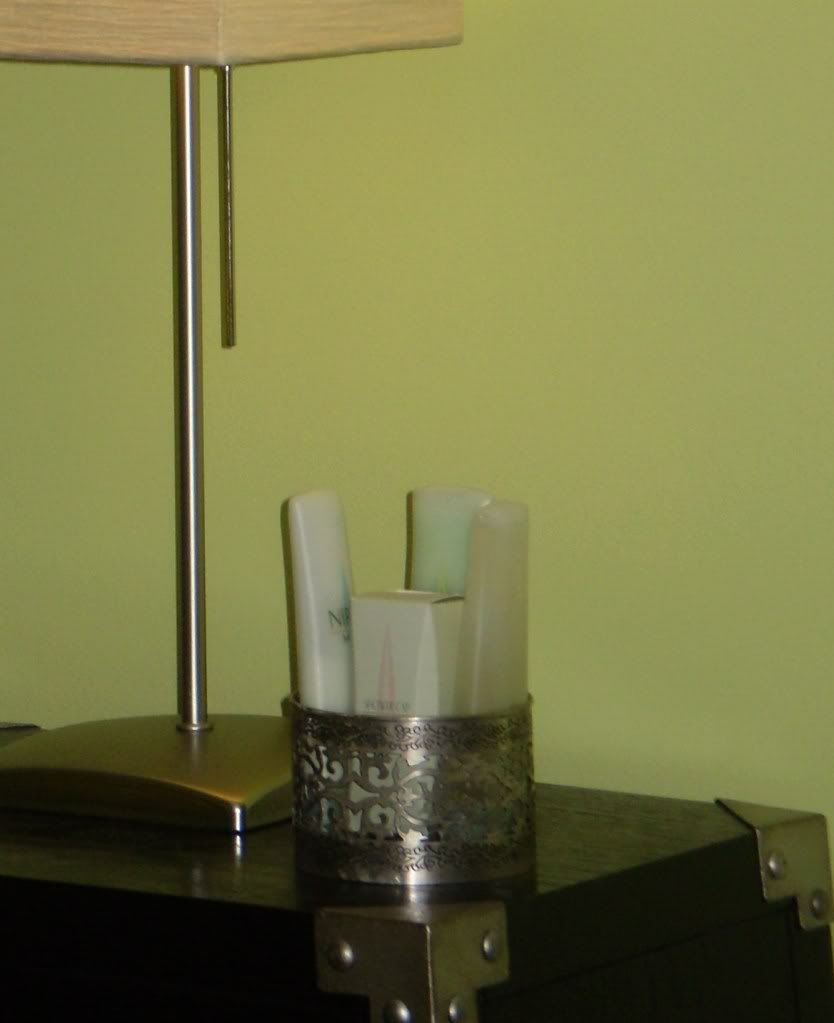 Cost Breakdown
$ 17.00 Paint - Glidden Spring Leaf in Flat Enamel (colormatched to Behr)
8.00 Paint - Behr White in Semi Gloss (cost for about 1/3 a can)
90.00 Door and Closet Trim
60.00 Baseboard Trim
50.00 Craigslist bed frame
20.00 Plywood for bed platform
290.00 New full mattress purchased from Overstock.com
95.00 New bedding set purchased from Overstock.com
30.00 Mattress Pad
2.00 Pillow inserts for shams
0.00 Pillows for bedding set
30.00 Curtains (Ikea Ritva in white)
70.00 Area Rug (Egeby from IKEA)
15.00 Nightstand purchased from Craigslist and repainted white
20.00 Lamp for Nightstand (Smart from IKEA)
10.00 Lamp for dresser (Orgel from IKEA)
0.00 Dresser (moved from our old house)
0.00 Artwork over the bed
0.00 Artwork for the wall (free ceiling tile sample)
0.00 Curtain rod and finials (spray painted old curtain hardware hammered silver)
$807.00 TOTAL for Room Redo