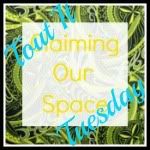 It's time for
Tout It Tuesday - #21
I am sorry that I didn't get chance to visit each of last weeks link ups. That is one of the things I enjoy most about Tout It Tuesday is gettig to check out all the projects, recipes and posts you have all linked up. It has been a bit of a rough week.
Willow, our fur kid and the star of
Willow Wednesday
, has been in and out of the vet's office several times. After some suspicious lab results and a weekend of not eating and barely drinking, the vet decided to keep her overnight last night. They think they have narrowed in on the problem and are waiting on the results of some tests so we are hopeful she will be home tonight. I am sure I will be posting how things all turns out. But, understandable, I haven't been blogging while dealing with that. On top of all that, some of David's family was in town for the weekend so we needed to spend some time with them.
All of this mean's I didn't pick out any features for this week.
However, we still have our Fan Fav Feature since that one is picked by you!
This week there were 2 link ups with the same number of clicks.
Naturally Mindful's
Natural Flea Protection.
I need to look into this for Willow.
The Wilderness Wife's
Blueberry Sour Cream Pound Cake
(try saying that 3 times fast so you are distracted while I eat another slice of this tasty cake)
Make sure to grab the
Fan Fav
button.