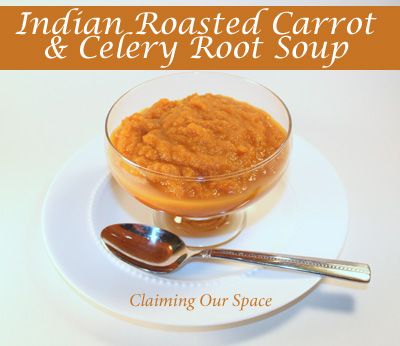 I am participating in a Fitness Challenge through D's work. In addition to the fitness challenge part, there are nutrition challenges too. This week's was to try a new fruit or vegetable every day. This was a bit difficult since we eat lots of fruits and veggies and our CSA share the last three years has exposed us to a variety of new vegetables. So I headed to the grocery to see what I could find. There were only a few items that would work, one of them was Celery Root.
Source: BubbleWS
Now these things are quite unattractive but turns out that underneath a knobby exterior is delicious, earthy tasting goodness. But how best to eat the celery root? I decided to roast it since roasting usually brings out such delicious flavor. But what else? I hit the fridge and found some carrots. I was thinking of a delicious carrot ginger soup D and I had years ago. But I wanted something with a kick so decided to go Indian. Tandoori and Sweet Curry - Yum! Preparation is so easy. Roast, boil, blitz, enjoy!
I have been eating a serving as a starter for lunch or dinner (all the fiber helps to fill me up) but double the amount to a cup, add a salad with some shredded chicken on top and you have a low cal, low fat, filling meal.
I hope you enjoy this soup as much as I do. If you want to kick up the spice, add more Tandoori or Sweet Curry.
Ingredients
1 large celery root, peeled and chopped
2 lb carrots peeled and chopped
1 T olive oil
4 cups chicken stock sub veg stock to make vegetarian)
1/2 teaspoon salt
1/2 teaspoon pepper
1 teaspoon Tandoori seasoning
1 teaspoon Sunny Paris seasoning, Penzeys
1/2 teaspoon Sweet Curry powder
1/2 teaspoon ground ginger
Directions
Preheat oven to 350 degrees
In a large bowl, toss celery root and carrots with the olive oil
Place on cookie sheet
Roast for 60 minutes or until soft
Once carrots and celery root are roasted, place in a large pot with stock
Bring to boil
Reduce heat
Puree with stick blender (or in a food processor)
Add spices and seasonings
Let simmer for 10-15 minutes to let flavors meld
Nutritional Info
Serving size: 1/2 cup
Calories: 58
Carbs: 8
Fat: 2
Protein: 2
Sodium: 284
Fiber: 4