The
Nesting Place
is having her second annual home goals linky party beginning today.
I missed it last year and, even if I did post, my list would not have had much, if anything, checked off due to our new roof (More on that issue
here
). But this year, I have high hopes and actual plans for projects. Yay!
Being a bit Type A, I know that if I actually write stuff down, it has a better chance of taking place. Why? Because I like to cross thing off with my bright red "crossing things off the list" marker. (Yes, I have a special pen just for crossing stuff off my lists.)
So after some thought and walking through the house looking at the long list of want-to-dos, here is my list for 2012 with some major and not so major projects.
Indoor Projects
1. Master Bedroom
Tear out pink carpet and replace it with carbonized vertical bamboo flooring (which is already purchased and in the basement)
Paint (colors picked out Farrow & Ball Brassica and Behr Plus Mineral)
Replace door trim and baseboard to match rest of the house
Find dresser(s) and nightstands on Craiglist or at thrift stores
Prep and paint the lamps I got at a garage sale last year
2. Rip out and install new flooring in the hall bathroom
This is what we found when one of the bath tiles came up when we were ripping out the hallway carpet.
Who uses thinset to stick down vinyl tile? Apparently the previous owners of our home.
3. Living Room
This is what our fireplace wall currently looks like...total disaster!
Finish stripping fireplace and repaint white (the woods don't match. Boo!)
Paint all woodwork white
Install marble tile to fireplace surround
Rework shelves in the cabinets
Install lights in the cabinets
4. Install baseboards and trim in the hallways, foyer and living room.
5. Set up crafting/sewing area in the downstairs guest room.
Possible thanks to the gift of a fabulously large desk with hutch from my parents.
5. Create dedicated exercise area in basement with small TV.
6. Replace fixtures/lighting in the master and hall bathrooms
7. Finish the wall repair in the hallway.
8. Install curtains and shelving to create a "linen closet" of sorts in the back hallway
9. Install new lighting in the hallways
Outdoor Projects
1. Replace/repair small deck off kitchen and add stairs to garden
2. Expand the garden by adding more garden boxes
3. Build a potting bench
6. Hire someone to take down several large trees
7. Finish steps from garage to garden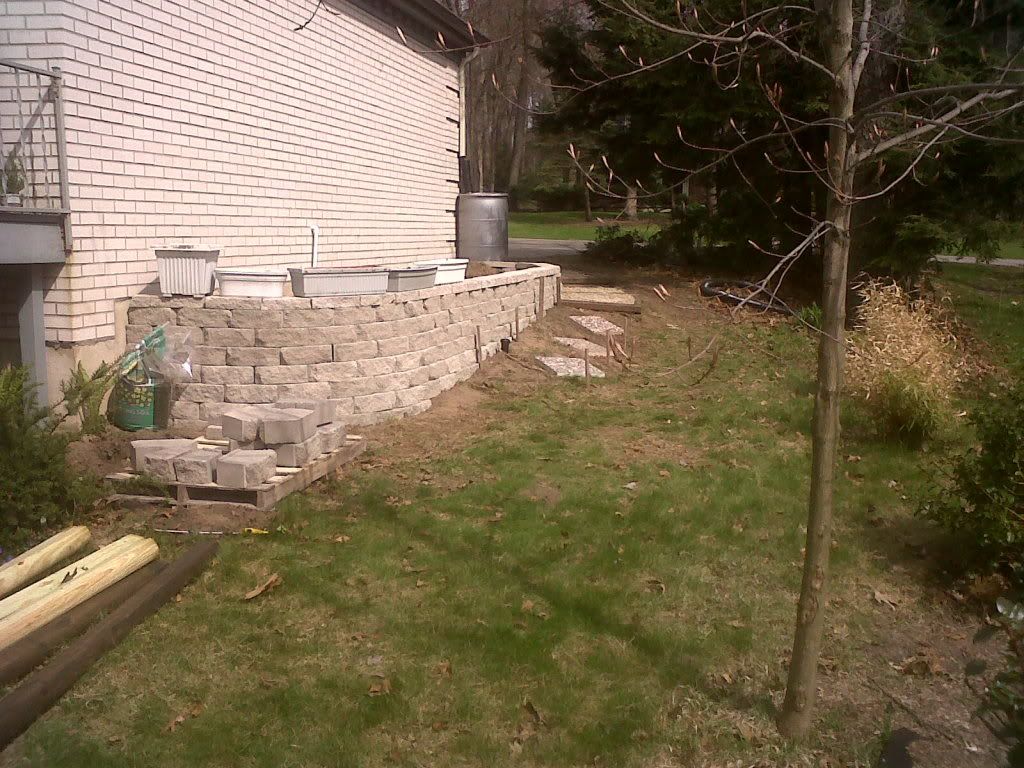 8. Clean up/rework the "natural areas" in the backyard
Remove several plants that we have learned can be poisonous for our dog
Cut down some dying/sickly trees for more light
Possibly plant some Columnar apple trees, if I can talk Hubs into it
Furniture projects
1 and only 1 goal: Finish repainting/restaining/etc. my "project" pieces.
I currently have waiting for my attention
4 nightstands/endtables
1 dresser
1 bar cart
3 lamps (not including 1 lamp shade redo)
1 chair
1 cedar chest
2 buffets
According to Hubs, I am not allowed to buy/bring anything else into the basement before these are finished and put into whatever spots in the house I have planned for them. So I better get cracking so I can start looking for stuff for the master bedroom.
I plan on updating quarterly on my progress on any/all of these goals.