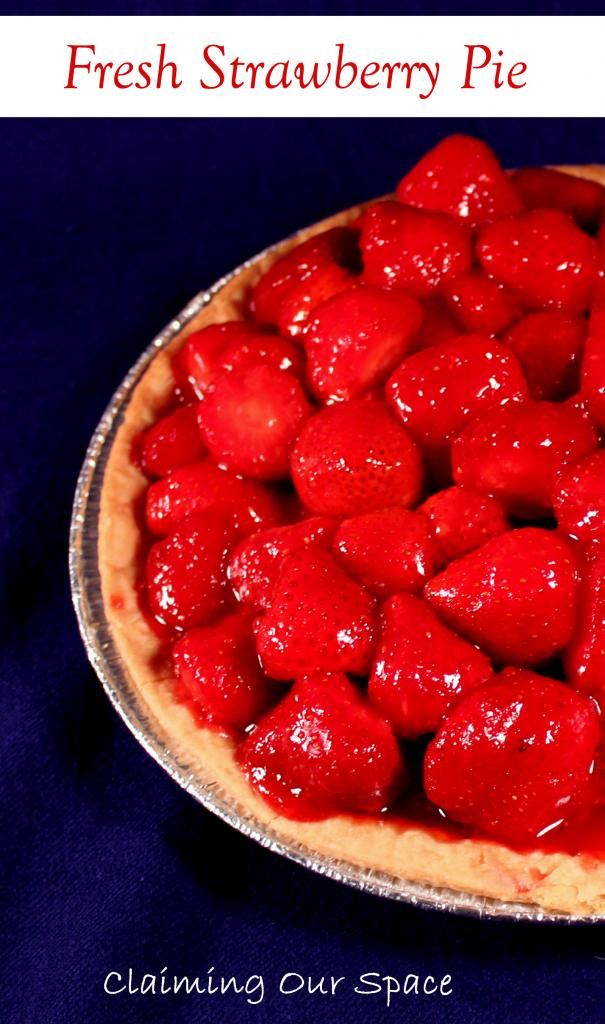 Making my Dad a strawberry pie for Father's Day is becoming a regular tradition. Two years ago, I made him
this baked strawberry pie
. Last year it was a
strawberry meringue pie
. After getting one baked and one fresh, Dad said he like the fresh kind better. I have to say, I agree.
So this year, the search was on to find another fresh strawberry pie. Brown Eyed Baker to the rescue! I have actually made this pie twice and the recipe below is with my minor modifications. And since I am not great at making pie crusts, I just went with store bought and it was still delicious. So if you are like me and have a tough time with pie crusts, don't feel bad about going with store bought.
The Father's Day Pie was a huge hit and according to my mother, he only let her have one piece. Upon that news we made him another one for his birthday and he was so excited to see the candles in his birthday pie.
Fresh Strawberry Pie
Source: Brown Eyed Baker
Ingredients:
1 frozen pie crust
For Filling:
4 pints (about 4 pounds) fresh strawberries, gently rinsed and dried, hulled
¾ cup granulated sugar
3 tablespoons cornstarch
3 teaspoons pectin for low-sugar recipes(make sure it says for low/no sugar on the container or box)
Pinch of salt
1 tablespoon lemon juice
Directions:
Prepare pie crust according to package instructions
To make the Filling
Select 6-7 ounces misshapen, underripe, or otherwise unattractive berries, halving those that are large.
In a food processor, puree the berries.
Whisk the sugar, cornstarch, Sure-Jell, and salt in a medium saucepan.
Stir in the berry puree, making sure to scrape the corners of the pan.
Cook over medium-high heat, stirring constantly with a heatproof rubber spatula, and bring to a full boil.
Boil, stirring consistently to prevent scorching, for 2 minutes to ensure that the cornstarch is fully cooked (mixture will appear light and frothy when it first reaches a boil, then will darken and thicken as it cooks).
Remove from heat.
Stir in lemon juice.
Let cool to room temperature.
Check the remaining berries and measure out 3 pounds of the reddest and prettiest ones; halving only extra-large berries.
Add the berries to the pot wit the the glaze and fold gently with a rubber spatula until the berries are evenly coated.
Pour the berries into the pie shell, piling into a mound.
Turn any cut sides face face down so all you see is the outsides of the berries.
Arrange the berries so that holes are filled and the mound looks attractive.
Refrigerate pie until chilled, about 2 hours.
Serve within 5 hours of chilling.