**This is a Sponsored post written by me on behalf of Whitney Farms. All opinions are 100% mine.**
This is year 2 of the Claiming Space garden. The beds are prepped, for the most part, and are ready for this year's plantings. OK, the grass does need a good trim and I need to fix the fence that helps to keep out the bunnies, but don't worry, these are on the list for the coming weekend. I also have a plan for the fence at the West end of the garden so check back to see how it turns out.

My herbs survived the winter. I don't think I will ever need to buy oregano or parsley again.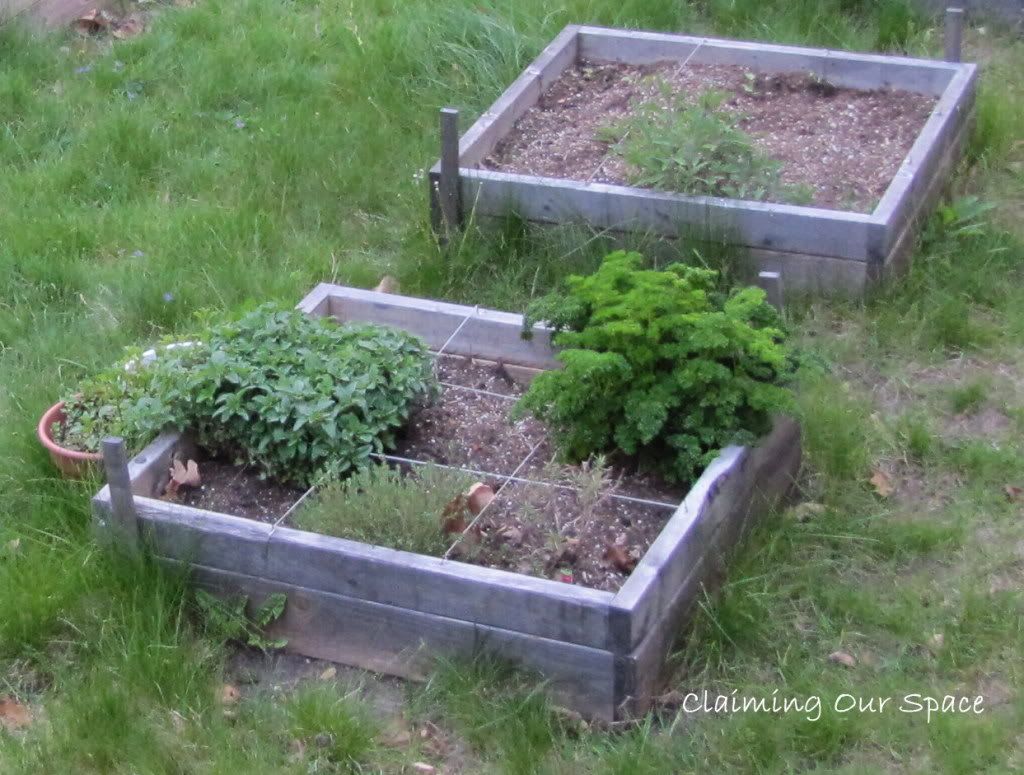 Last year we had some successes with the potatoes in tubs, lettuces, peas and cukes along with some failures with the brussel sprouts, tomatoes, strawberries. I am hoping to maximize the successes and minimize the failures this year by actually remembering to fertilize my veggies.
Truth be told, I think I may have used a fertilizer once last year and that can't have helped my plants at all. I mean, fertilizer is an important ingredient for a successful garden. While I NEED to remember to fertilize, I want to make sure that the product I use is organic and not only good for the plants and veggies but is safe as well. Two products that fits the bill are Whitney Farms
organic plant food
and
organic soil
.
Using organic products is important to us. We live close to a river as well as the Great Lakes so we are very aware that what we put in the ground can have a big impact on our water system. Using organic products makes us feel safer and that we are doing the best we can for both ourselves and the environment.
Additionally, we regularly eat produce straight out of the garden all summer long. (Here is where I am hoping everyone does this too) To me, there is nothing better than eating peas straight from the pod or a strawberry right off the plant. Yum! By using organic products, it makes me feel better about not always washing everything off before eating. Plus, it would take much too long to fnish weeding if I needed to go inside to rinse each snow pea pod I may eat while weeding.
Do you have any big plans for your garden or any garden experiments you are trying this summer? If so, I would love to hear about them.
To get $3 off your Whitney Farms plant food or soil purchase, click on the link below.
Whitney Farms®
I plan on redeeming mine this weekend. I am going to experiment with growing some carrots in flowerpots this year so I will need some good soil to tip the chances of success in my favor.